Haiti Stands Up
Oct 10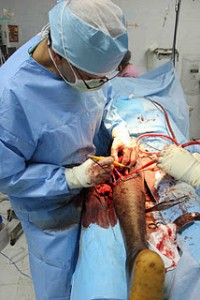 Freddy left very early for the airport. ZJ also left for the week to get some medical issues checked and treated in Miami. I went for my morning run and felt really good when I started. I was pretty sure I would have a good time for the run and I was able to do it more than a minute faster than my last run. (28' 50") I'm getting close to my best time ever. Ed and I started the big Monday clinic. The Puerto Rican team arrived mid morning. They immediately dove in and started working. Juan Bibiloni and Humberto Guzman are the two orthopedists leading the team. Dr Ramos is their anesthesiologist. They have 2 OR nurses/techs also, Ulisses and Julia. Juan is a subspecialist in both reconstruction and orthopedic oncology and teaches at the University of Puerto Rico orthopedic teaching program. He did his oncology training in Boston with Dr Mankin and also at the Instituto Ritzoli in Bologna, Italy. His joint reconstruction fellowship was also in Boston. Humberto did a fellowship in children's orthopedics in San Diego, the same program where Scott did his fellowship. Humberto finished fairly recently and has never met Scott. They have both been very involved here in Haiti. They have been instrumental in starting a foundation called "Haiti Se Pone de Pie."(Haiti stands up) or (Haiti gets back on its Feet). The emphasis is on providing prostheses for the many amputee victims of the earthquake. Humberto and others from Puerto Rico did many amputations starting three days after theearthquake. They brought an entire truck over from Puerto Rico on the Ferry from Mayaguez to the Dominican Republic. They made it as far as Jimani at the border and found a facility with many patients needing care (amputations, external fixators and fasciotomies for compartment syndrome.) Their experience was wrenching but also gratifying. They had an incredible experience in the aftermath of their week of nearlynonstop, heroic efforts to help injured Haitians. Several pictures were posted on Facebook by team members that were totally misinterpreted by some members of the press in not only Puerto Rico but also in the national media in the US. Such a negative light was shown on them all that they were even brought under threat of medical license revocation in Puerto Rico. They paid several thousand dollars to take out a full page ad in the Puerto Rican news media explaining the misinterpretation of the pictures. It clearly shows how the popular media can take information and without proper analysis, use it in an inflammatory manner that can discredit highly trained and qualified specialists who are donating their valuable skills to save peoples lives in a disaster situation. Of course, the motivation is to attract more viewers and readers to "sell" their product and improve the "bottom line."
Two more orthopedists will be arriving on Wednesday. Juan and
Humberto started evaluating patients as if they were at home. I am
really impressed with them. Ed did a case of tibial 8 plates and I
did a couple of small cases. Dr Bibiloni then started the case of the
large popliteal cyst with the peroneal nerve palsy. He spent between
2 and 3 hours very carefully dissecting out the lesion and identifying
the peroneal nerve and the neurovascular bundle. The peroneal nerve
was located between two large lobes of the cyst and was flattened so
that it looked almost like a ribbon. Clearly it had been under
pressure for quite some time. The neurovascular bundle was displaced
significantly toward the medial side of the knee by the cyst. Juan is
certainly a skilled surgeon. He made what for many orthopedists would
be a sphincter puckering experience look fairly straightforward.
The cases as well as the clinic were all finished by about 5 pm. It
was a rainy day all day long so I chauffered the team to the Auberge
in the "new" tap tap to be. I also took JJ and Roosevelt home so they
wouldn't have to find a taptap in the rain. The traffic was awful out
on the main street in Carrefour and what should have been a ten minute
event took more than half an hour. The evening was still young so
Jeannie and I took Ed and the two medical students to the Auberge for
pizza. The Puerto Rico team was just sitting down so we joined them
and had a great time talking and getting to know each other.
Oct 11
We had a good list of cases for today. Unfortunately, we had to
cancel a child because of a cold and two other patients didn't come
including the patient with severe Blounts for a TSF. We were able to
call one of the patients scheduled for tomorrow and he agreed to come
in. It turned out to be a good day after all. Tomorrow the
foot/ankle specialist, Dr Perez, arrives as well as the sports
medicine specialist, Dr Mayol. Today was Ed's last day. Jeannie made
dinner and we invited him to join us. We had a good time talking for
nearly 3 hours. Ed and I went to college together and he was one of
the more colorful students. He was involved in several pranks that
eventually led to him being asked to leave. The experience didn't
embitter him and he finished premed at another school and ultimately
did orthopedics at Loma Linda. During residency we did socialize a
bit and have stayed in contact since, mostly through the Neufeld
Society of which he was a founder and our common interest in
supporting the orthopedic program at Loma Linda. Jeannie and I really
appreciate his support of the work here. Many of the orthopedists
that I know well and had hoped would be willing to donate a week of
their time during this year have not been able to come. Ed has come
TWICE and that puts him in a special category for us. He has been
extremely generous also with helping with resupply of implants. He
brought the 7.0 cannulated screws that he tested and then ordered and
payed for from the company in India. We now have a full set as well
as replacements that should last for quite a long time. The Zimmer
7.0 screws are much better than the Synthes 6.5 screws because the
guide wire used with them is much beefier and doesn't deflect like the
thin one for the 6.5 Synthes one. The screws can be placed more
accurately especially in the hip.
Oct 12
Jeannie and I got up early and bid farewell to Ed. The clinic was big
as usual. Having two more orthopedists to help when they weren't in
the OR helped us finish before 4 pm. An unexpected case came in for
Dr Perez, the foot specialist who arrived around 10 am along with Dr
Mayol, the shoulder specialist. Another tumor case came in to the
clinic. The lady has had a lesion growing in her groin for several
weeks. It is large and has eroded through the skin. Dr Bibiloni felt
it was something that he could remove. I would have never attempted
something like that. It was so intimately related to the
neurovascular bundle. We arranged for her to get blood ready and to
come back on Friday for surgery. We eventually did seven cases and
finished before 8 pm. Dr Bibiloni runs 2 or 3 times a week as well,
so we arranged to run together early tomorrow morning. Our son,
Cameron, has been having intermittent symptoms of pain in his ankle
that sound somewhat like a loose body. He would like to be evaluated
by Dr Perez to see if an arthroscopy might help him. He is going to
try to make arrangements to come here with a professional
photographer. He lives in Cabarete in the Dominican Republic and
could drive. I encouraged him to fly. The challenge of finding his
way across Port au Prince if he drives would be daunting, especially
never having been in the country before. The digital machine for the
ortho clinic has finally been repaired enough to be usable again. It
definitely makes the clinic go more smoothly.
Oct 13
Cam's early email said he had decided to fly and would be in this
afternoon. Juan and I ran my route and had a good time. We stopped a
couple of times to enjoy the view from high above the hospital. There
were 12 cases on the surgery schedule today. There were three
arthroscopy cases including the Bankhart repair of the shoulder.
There was no clinic so we could use all three rooms for at least part
of the day. The fifth orthopedic member of the team, Artemio Torres,
arrived this morning from New York. He is also sportsmedicine and
does mostly knees. Five of the cases needed C-arm so we still didn't
get done until after 7 pm. I did a talectomy case with Humberto and
that was a first for him. Dr Mayol is an extremely skilled surgeon.
He set up the shoulder arthroscopy as if he were operating in his home
hospital. Dr Torres assisted him. He made what for me would be a
challenging case look very simple. He put in three very accurately
placed anchors to repair the Bankhart lesion and the shoulder was very
stable. He has a great sense of humor as well. All of these guys,
except the serious one, Dr Bibiloni, are constantly "putting each
other down." They make snide little comments about how slow one is
compared to the other. It is all in fun and they have a great time.
They obviously respect each other very much. Cameron arrived with
Chris Black, the professional photographer this afternoon. He had the
sportsmed guys and Dr Perez, the foot and ankle specialist, examine
him and the ultimate conclusion was that surgery wouldn't be likely to
help him. Of course, the ankle isn't bothering him right now. Chris
is an extreme water sports photographer. He mainly shoots surfing and
kiteboarding. He is from England. He has a lot of connections in the
movie industry. He and Cameron have planned to come here to get a lot
of photos of the project and then combine them with photos of a kiting
trip on the north of Haiti. They are sure that they can make a
several page spread in the kiting magazines that will help get media
exposure for HAITI: TOGETHER WE MOVE and the project here. I talked
with Chris about the possibility of getting national media exposure in
England for the book. He thinks there is a good possibility. With
the popularity of 'reality shows', he is going to work on getting one
done here to help publicize the opportunity and needs.