Haiti Never Ceases to Amaze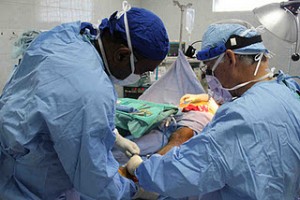 Nov 2
I felt like running when I woke up at 5 o'clock. I started out on the uphill a bit faster(not quite as agonizingly slow?) as usual. The gas was pretty well gone before even getting to the more level section at the top. Pushing on was not fun but there was still some hope that today might be the day. The more flat section decreased the negative sensations a lot and the timed spots seemed to come a bit sooner than usual. The more flowing feeling on the descent turned the whole experience into something actually positive. 27' 10" My best time yet. To think that my goal after doing this run several times when I first started was to break 30 minutes. Now I'm nearly 10% under that. If I can keep up the improved times I will logically reach 0 minutes and 0 seconds. Then time will begin to go backwards and every time I run I will get a little younger. It took for me to spend a year in Haiti to discover the secret of eternal youth. What an awesome year this has been.
I concentrated on the clinic while both Ian and Mario got our cases going. Several more patients with frames came in and they almost always take a while to make sure everything is going well. One patient with bilateral PonseTaylor frames for severe clubfoot is doing quite well. I checked all of her strut settings and a couple of them were way off. The mom said the strut was hard to turn so she just stopped. They live quite close by. I don't know why she didn't come to get help before her appointment. We got it straightened out and changed a couple of struts that needed it. A patient of mine that I put a TSF on for a tibial malunion came in. He looked a bit overcorrected and the xray confirmed he is in a bit of varus as well as more distraction than I had programmed. I discovered that he has been adjusting his struts to try to get one of the rings way from his skin. All of the struts but one were totally off.
I programmed a residual for him that will take a few days. I'll check it next week before we leave. The orthopedist at Medishare called to ask if we could take a couple of hip fractures. Apparently they have limited Carm capabilities. His name is "Bull" Durham and he is from Tuscon Arizona. He came over along with the neurosurgeon and I showed him around. This is his 4th time working at Medishare. He is getting to the point where he feels they are regressing in their capabilities. He also feels frustrated that they are not allowed to get out in the community at all because of security concerns. He wants to come here next time.
A neurosurgeon at Medishare called and asked to bring a patient with a C6 spinal injury for surgical stabilization. He had jumped facets and complete quadriplegia. I told him it was fine to bring the patient and I would help him with the case. We started it about 5:30 and finished before 8 pm. I passed sublaminar wires and we bent a rod and wired C4 to L1 and fused him. He was reduced and nicely stabilized when we finished. Derek gave the anesthesia and was a pretty tired guy by the time I got him to the hotel.
Nov 3
Our surgery schedule was lighter than the usual Thursday. That was ok because Ian had heard about the Hotel Olafson and the really good food there. He wanted to take the whole team there because today was Mario's last day. We had several smaller cases, another diabetic foot that needed a transmetatarsal amputation and a 10 y/o with severe neglected clubfeet. I assisted Mario with the clubfeet. The first side was easier and he got a good correction. The second side was limited by both medial skin contracture and the neurovascular bundle. It will require a second stage procedure. Dr Durham from Medishare called back to see if he could bring a case over to do tomorrow. Their C-arm apparently quit working yesterday. We have two cases for the C-arm tomorrow but it should be available in the afternoon.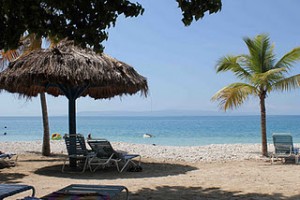 With our cases wrapped up before 5 o'clock, we headed off to the Olafson in the pickup. The traffic was absolutely terrible. The jams appeared to be related to the road work that is being done on the main road through the city. Roosevelt helped us find the hotel. It is a decades old Victorian building and very photogenic. The long veranda wraps around the end of the three story building. Overhead fans keep the air moving. There was a classic looking hotel bar just inside the front door. Many of the tables on the veranda had people sitting at them smoking cigarettes. It was much like a scene out of the movie "Casablanca." We had a really good time telling stories. I toasted the whole team and especially Mario for all of their help and hard work. Most of us had sandwiches for which the hotel is well known. Derek really enjoyed the rum punch which is also a house specialty. After several of them, he decided to take a swim in the pool which he said was delightful. We explored the rest of the old building before leaving. The traffic was all gone by the time we returned home.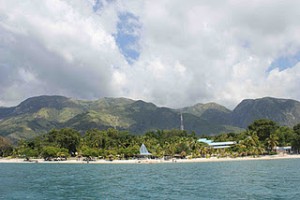 Nov 4
I expected the clinic might be larger than usual because of the holiday on Wednesday. It was. Quite a few new patients came in including one young man with a history of chronic infection in a distal femur fracture. He was last operated on at the navy ship for a debridement. He continues to have significant purulent drainage from just above the knee. He has just a jog of motion in his knee. I explained the options and recommended amputation. He would need at least 3 more operations and likely more to clear up the infection. If the process were successful, he would still be left with a short leg with virtually no knee motion. He had already been thinking about this possibility and fairly quickly agreed. We'll try to work him in in a timely fashion this coming week. The power went off for quite a while during clinic.
The patient with the hip fracture from Medishare is 98 years old. She was quite active and not demented before her fall a couple of weeks ago. I had Ramon Rivera evaluate her when she got here yesterday and he cleared her for surgery. We tried to get things going in the OR as quickly as possible hoping to finish in time to go back to Petionville to look for some paintings and carvings. Ian wants to try to have a fund raiser in his church in Ohio with the Haitian art work. Unfortunately, things went very slowly. The hip fracture, using the hillbilly fracture table went nicely. Lilly helped me and drilled several holes and put in screws and did some suturing. She has been great to have here. A patient with a tibial nonunion for a SIGN nail was supposed to be next but we had several smaller cases that each needed Derek. That slowed the whole process down and we didn't get the tibial case started until nearly 2 pm. I helped Dr Durham from Medishare do that case and by the time we finished it was after 4 o'clock. The power went out during the procedure and would only come on for a few seconds every half hour or so. It was very maddening. After finishing the tibia the clinic was still going but almost done. I couldn't leave Dr Durham alone to do his distal radius fracture and Jeannie was the only one left to help circulate. We eventually finished with everything by around 7 pm. Petionville would have to wait. Ian and Sue and Derek leave tomorrow morning so we'll have to go to plan "B" with that one. Jeannie and I will try to get what they want before we leave on Wednesday and take it with us. We can ship a box to them when we get back to Appleton. Ian is really excited to try this fund raising for Haiti. If it works, he wants to come back and get more art and do it on a regular basis. Jeannie and I took Lilly to the Auberge and we spent a couple of hours with them reprising some of our interesting times during the last two weeks. Scott and team arrive tomorrow.