Alexander Team Arrives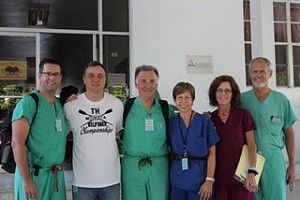 Oct 24
The Ian Alexander team arrived yesterday. He is a foot and ankle subspecialist from Ohio. He is sponsored by the Foot and Ankle Society. His trip here is to help the leadership of the Society decide if their involvement here will be an ongoing program. They want it to be a teaching program as well as a help for the local orthopedic surgeons. He has his wife, Sue, with him. She is a pediatrician. He also has a peds foot and ankle specialist from Brazil. Mario Adames practices in the Southern Brazilian city of Florianopolis. It is largely on an island and has 42 beaches. It is well known for its surfing. He says they do a lot of windsurfing and kiting also. Sue is an OR tech with them. She is extremely good at orthopedics. She sets up the room as if she has been working at HAH for years. Derek is a great anesthesiologist. He is from Ohio but will be moving to Virginia in a few months. He grew up in Lake Tahoe, Nevada and studied in Arizona. We are lucky to have him. He loves to do blocks.
The clinic was made all the more challenging by three diabetics with foot infections. One had an entirely infected and dead foot. Another had a dead fourth toe. Everyone in the hall was wearing a mask to deal with the odor. We were able to take the patient with just the toe involved and debride her foot. The other patient had a very low hematocrit and needed transfusion first. I hope we can get blood so we can do her surgery tomorrow.
I was able to schedule several cases. The little boy with the TSF being treated for short tibia came in again with infection around several of his pins. He has had several trips to the OR already for similar problems. He still needs his frame since the new bone still isn't strong enough. I'll take him back again tomorrow for revision of his frame.
The final path result finally came back today on Katiana Paul. It is a fibrosarcoma. I emailed Dr Bibiloni and Dr Mehne with the results to see if they might have any connections that can get her adequate treatment. Dr Larson answered that the only possibility in Haiti would be a hip disarticulation. That wouldn't address the pelvis that appears to be locally invaded.
Both teams enjoyed a pizza dinner at the Auberge hosted by Frank and Kaye. I got to know Ian better during the meal. He has been a business man also, developing and selling software. The "peekleez" was a hit with most everyone, especially Steve.
Oct 25
We had a big list of cases on the board and didn't finish until after 9 pm. Ian and I did a takedown of a malunited tibia and placement of SIGN nail. Ian enjoyed learning the nuances of the SIGN system. The case went well. A 20 y/o came into the ER after being hit by a car. He had a puncture compound very comminuted distal femur fracture as well as an unstable fracture of L2 without neurologic deficit and a deep abrasion on the back of his hand. Frank put in a SIGN nail and then cleaned up the wrist abrasion. We'll have to plan the spine surgery. He will need to have blood available. Mario did some of the peds cases. I showed Ian the book while we had a bit of time in between cases. He was very impressed with the quality and the content. I explained the opportunity that we have to establish this program with satisfactory funding. He immediately mentioned that he has a very wealthy patient that he is sure would give a large donation and that he is going to give her that opportunity. I'll sign a book for her that Ian can give her.
The Whitney/Mulder team leaves tomorrow. Jeannie made a great spaghetti and salad meal for their team and we had a late dinner.
Oct 26
Jeannie and I bid the team goodbye. Frank said that he and Kaye were seriously considering taking over for me. After working with him for the last week and a half, I am sure that he would do a great job. After they left, I went for my run. I had my best run yet 27' 40" even though I was still a bit stuffed up with a cold. We made rounds and after finishing, Ian was very excited to tell me some ideas. He said that he had been brainstorming about getting exposure for the book. He wants to arrange for a booth at the American Academy of Orthopedic Surgeons annual meeting in San Francisco in February. For more than two months I have been trying to figure out how I could make the right contacts to see about having a display there. Ian has done it many times and has all of the equipment. He wants to arrange a schedule of times for Scott and me to alternate being at the display for book signings. I sure hope we can work out the details and that it isn't too late.
The clinic didn't look all that big so I tried to get some important administrative work done. Scott had developed a proposal for keeping Francel here at HAH. He is being courted by MSF where he worked for a while before starting his peds ortho fellowship. I gave him my input on that important issue. Arrangements have been made for the orthopedic surgeon from Curacao to come the day before we are scheduled to leave. It is not nearly enough time for him to become familiar with the multitude of different areas that he will need to learn on his own. Dr Nau emailed me about a case that I had scheduled for surgery next week. He wants to come and help. He apparently knows the patient.
I helped out with the last half of the clinic and meanwhile, Mario went to the OR and started a case. I really enjoy working with Ian. Unfortunately, many of the foot and ankle cases we had saved up were operated on by Dr Perez when he was here just 2 weeks ago. Ian did the BK amputation on the diabetic today.
Oct 27
The surgery schedule was full. Dr Bernard Nau, a well known Haitian orthopedic surgeon arranged to have a patient of his evaluated this morning. Dr Alexander did the evaluation and felt that he was a very good candidate for a fusion of his ankle and subtalar joints. The patient has very large cysts throughout his talus(ankle bone.) He injured his ankle playing basketball 2 years ago and has had progressively worsening ankle pain since. He walks with a noticeable limp now. This type of problem is an area of expertise for Dr Alexander. We scheduled him for surgery next Tuesday. Dr Nau is planning to assist.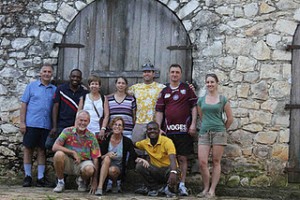 I did an arthroscopy with Lily assisting. She is very good with her hands and handled the instruments very well. She has a very good knowledge of anatomy as well. Mario did more children's feet and leg cases and he and Ian took out a SIGN nail and put in antibiotic beads and placed an external fixator on a tibia. ZJ and I revised an amputation stump on a young girl that he has been following closely and has gotten to know very well. We tried giving her tetracycline and using a black light to try to identify dead bone. I can't say that it worked convincingly. We put antibiotic beads in the stump. I hope it finally clears up her infection. We have another diabetic with a severe infection in her foot that we will try to take care of tomorrow. This is our fourth case in 3 days.
The reply from the Academy was that it is NOT too late for a display. In addition, it is complementary for nonprofits. Ian and I are excited. He is planning a ¼ page ad in the ORTHO NOW newspaper to raise awareness before the Academy. It will be fun to hopefully interact with many of the attendees and share with them what is happening here at HAH and what a wonderful opportunity it is.
I received word via email from Frank and Kaye that they have decided to not take over here for us. Of course, I am disappointed. I know he would do a great job. Perhaps they can be convinced to help this transition for a shorter period of time. I know this is God's project and have complete confidence that He will keep this project accomplishing what He wants it to do.
Oct 28
The clinics continue to be large and challenging. Ian, Mario and I worked steadily through the morning. We got in another diabetic patient with two dead toes and infection in the forefoot. Ian took him to the OR and removed the dead tissue and packed the wound open. Another patient with an Ilizaroff frame needed the foot wires and plate removed under anesthesia. The big case was Felix and his ankle. Felix had and open fracture of his ankle more than a year and a half ago. He also had a femur fracture. He first came to us several months ago with a nonunion of his femur and an infected failed ORIF of his ankle. Drs Weinfeld and Den Hartog removed the hardware from his ankle and debrided it thoroughly and placed an Ilizaroff frame. The infected wound was left open. It finally completely healed about a week ago. In the meantime, the ununited femur was treated with first an external fixator to get the bone out to length and then a SIGN nail was placed by Dr Yoon about 3 weeks ago. Mario tackled his ankle today to do a formal ankle fusion with iliac crest bone graft that Ian helped Lily harvest. We are all hopeful that this will be the last procedure that Felix will need.
I saw several patients in the clinic today in followup. One was Stephanie Bryce, the nine year old with severe bilateral Blounts that was treated with TSFs and tib-fib osteotomies. She and her family are so happy with her result. She is back running and playing again and is very happy. Her osteotomies are completely healed. Her mom brought us another great meal for lunch. I saw the ACL reconstruction that Anthony Feniston did four months ago. He is likewise doing very well. He is anxious to return to playing soccer. I am going to let him start some light jogging and then gradually increase his activities. Perhaps in 2 more months he will be able to play again. The patient with the TSF that I did last week came in. He has no problems. I had Franz teach the family how to adjust the struts properly. He will return next week to check on his progress.