Haiti is Beautiful!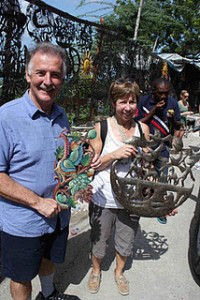 Oct 29
The Alexander/Adames team all wanted to do something this weekend. Some wanted to go to the mountains and others to the beach. Some wanted to do both. We decided on the mountains today and the beach tomorrow. The group was ten strong and we filled both the cab and the back of the pickup. We stopped on the road to Petionville and looked for souvenirs. We also found some great citrus that was very sweet and juicy. We also got a large watermelon for lunch. The paintings, metalwork small decorative boxes, and wood and stone carvings were even better in Fermathe, the little town where Ft Jacques is located. We all thoroughly enjoyed the fort. It is very picturesque and has such a great view of Port au Prince and the bay far below. We got lots of pictures sitting on the cannons and climbing around. A woman in the parking lot was selling some just picked raspberries. We bought a bag full of them and Jeannie plans to have them with waffles. It was a very relaxing day for everyone to get away from the intensity at the hospital. Ian and Sue found some nice metal work and a couple of paintings that they liked.
Oct 30
Jeannie and I made rounds early. We changed all of the dressings that needed it. All of the patients seem to be doing well. They lady with the bilateral femur fractures that rode here on a motorcycle for several hours is all smiles whenever we come in. Her right side was definitely the most painful and now that it has been fixed with a SIGN nail, she is able to get out of bed with no pain. The left side is now nealy healed even though it is malunited. She is several centimeters short on that side. Her hemoglobin remains too low to do any further surgery right now. She would have to be transfused first as well as have more blood ready for an open reduction and fixation. She has no resources and all of the volunteers that are able have already donated.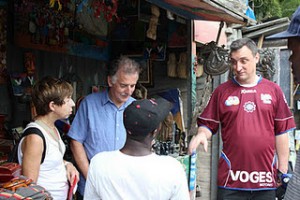 We had only one translater with us today so the back of the pickup wasn't quite so crowded on the way to the beach. Kaliko Beach resort is quite nice. The beach itself is smooth pebbles and rocks but there is a wide sandy area between the beach and the buildings. Some small sea grape trees provide shade for much of the area. There was a small rowboat hanging out just off the beach. It said "taxi # 13" on the side. I asked Ian and Mario and Derek if they were interested in going out for a ride. Only Ian wanted to go so we negociated with the guy, Fritzner, and out we went along with Roosevelt. The guy is a fisherman who fishes three days a week. On good days he can make more than $50 US. He keeps all four of his kids in school even though he says the fees are high. I tried rowing on the way back but was pretty much a failure. I don't think I made any headway into the breeze. The oars as well as the boat were handmade. They were quite heavy and I struggled. Fritzner took over again and we made it back in short order.
Lunch was next on the agenda. It costs $30 US per person to access the resort for the day but that includes a great buffet lunch as well as 5 tickets for drinks. The salads were very fresh and there was a lot of rice, beans, chicken, meat, potatoes and other vegetables. We were all thoroughly stuffed. The rest of the afternoon was a total enjoyment in the pool and looking for shells on the beach. I had a great time talking with both Ian and Lilly. We started out for home later than we should have and it got dark about halfway back. I am very reluctant to drive at night because bicyclists and many motorcycles have no lights or reflective devices. It is also way harder to identify the potholes. Thankfully it was an uneventful return. We will have another big clinic tomorrow I am sure.
When we got back to the hospital, we found our good friend, Ramon Rivera. He is an internist who lives and practices in Puerto Rico. He and I worked together at Hospital Bella Vista more than 30 years ago. He has a real heart for Haiti and has been here on two different occasions. The first was before the earthquake. He came and worked in Cite Soliel for 2 weeks. After the earthquake, he responded and rented a pickup in Santo Domingo and drove here, caravanning with another vehicle. He would like for the Adventist hospital in Puerto Rico to be involved as a sister institution with HAH. He will be able to help us a lot the next week and a half. We have a lot of patients with comorbidities, especially the diabetics.
Oct 31
The Monday clinic was a typical large one. I got taken away for part of it by a fairly long phone call from an orthopedic surgeon at Medishare. His name is John Durham and has been called "Bull" since he was a child. He has been to Medishare 3 times previously. He practices in Flagstaff, Arizona. He doesn't have a fracture table and doesn't want to try to do intertrochanteric hip fractures without one. He also has a patient with a femoral neck fracture and has no hemiarthroplasty implants. He also wants to borrow some plates and screws to fix a distal radius fracture. With all three of us seeing patients steadily we finished by about 2 pm. We had 4 smaller cases to do and finished with everything by about 6 pm. Our last case of the day was the lady that I had treated for a malunited tibia with a TSF and osteotomy. She had been lost to followup for a while and developed an equinus contracture of her ankle. We treated it surgically with a gastroc slide and then immobilized it by extending her frame to her foot and putting in metatarsal wires. She had healed well and her foot was plantigrade when we removed the lower part of the frame and the metatarsal wires two weeks ago. Upon going home, she apparently made no effort to prevent another equinus contracture. She came in to the clinic today with the same fixed equinus she had before. I was sure we could do a manipulation and get her foot plantigrade. Ian suggested making a foot plate orthosis to attach to her TSF so Jamison did that while we were waiting for her stomach to empty.(she ate spaghetti at 9 am) Sure enough, the manipulation was successful. She is now in a little bit of dosiflexion, held by her custom foot plate tied up to her TSF. During a break in the afternoon, we celebrated Mario's 41st birthday. Jeannie made brownies and we had ice cream and the fresh raspberries that we bought up at Ft Jacques on Sunday.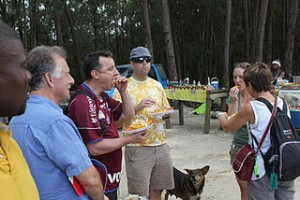 We had a tremendous thunder and lightning storm that hit suddenly. The wind blew very hard and I heard a loud crash outside. I carefully opened the door to our balcony and found my cool banana plant laying on the floor as though someone had shot and killed it. It was still raining hard. I'll try to resuscitate it tomorrow.
Nov 1
We had a big day scheduled – 4 cases for the c-arm. Two of them were cases that Dr Bernard Nau had sent. One was a lady with a SIGN nail and femoral nonunion. The other was the patient he sent a few days ago with a painful swollen ankle. The joint crunched a lot when it moved. The xray showed the talus(ankle bone) was riddled with cysts. There was hardly any bone left. Dr Nau had arranged to come for both of the cases. Ian did the case with Ben assisting. The huge cysts in the talus were impressive. Meanwhile, Derek was already next door getting a 3 year old ready for a bilateral posteromedial clubfoot release. I assisted Mario on them and they went well. Ian finished the tibio-talar-calcaneal fusion with a large distal femoral locking plate. Ben then came in and watched while we finished the second clubfoot. Ben and I then did the lady he had sent me with the femoral nonunion. We took out the distal locking screws and a third "blocking"? screw. The knee was very arthrofibrotic and required a big incision to mobilize the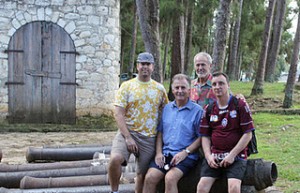 patella to get the retrograde SIGN nail out. We reamed her to 11 mm and then put in a larger 9mm SIGN nail that was 20 mm longer and locked it both proximally and distally after impacting it. Ben got bone graft from the iliac crest and I exposed the nonunion and cleaned it up and made a good bed for the graft. The case went very well. It was a pleasure working with Ben. We were able to give the patient an additional 30 degrees of knee flexion as well. The last case was really interesting. The patient had a history of a fracture dislocation of the ankle that got infected after surgery. Eventually the infection got cleared up but the patient was left with a very painful ankle. Ian decided to fuse her tibia, talus and calcaneus with a SIGN nail. He did the case with both Mario and Bernard assisting. He did a beautiful job. He is really a master surgeon. He had never seen a SIGN nail before coming here.