All in the Family- A visit from Cameron Dietrich
Oct 14
The clinic was the usual size today. I had a meeting with Nathan and we discussed a number of items. There is a possibility for another orthopedic surgeon that might be able to replace me. He is from the Philipines and is currently working at the Adventist hospital in Curacao, apparently doing just administrative work. The funding apparently wouldn't be an issue. Even if he doesn't do much surgery, perhaps he could keep the program organized so that the specialty teams have good cases set up and there is satisfactory followup. He and Francel could run the clinics and take care of the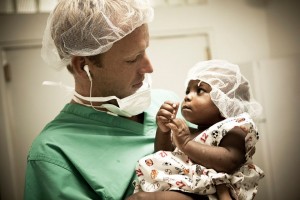 everyday cases. It will be interesting to see where that possibility goes. Of course, Dr Frank Whitney and his wife Kaye are coming on Sunday. We have hopes that he will be willing to take over for me for at least six months or more. The surgical cases were mostly foot today, but Dr Bibiloni did the tumor case. I was busy in the clinic when he did it but he said the tumor was immediately on the vessels in the groin but not invading. He again did an excellent job on a very difficult case. We have been hoping to get the report back on our teen age girl with the lesion in her hip that Dr Yoon biopsied especially with Dr Bibiloni here to help with the management. Dr Perez and Dr Guzman have done a really great job on all of the foot and pediatric cases we have had. We arranged to have dinner together this evening at the Auberge where the team is staying. We had a really great time talking and telling jokes and getting better acquainted. Juan told Jeannie and me about his 500 acre farm in central Puerto Rico. He farms about 100 acres. He has Valencia oranges on most of it. He also has limes and some plantains. He has a foreman and 9 employees. He has 3 children and loves his wife very much. He has a big concern about the drugs, crime and violence that seem to be more and more prevalent every year in Puerto Rico.
Oct 15
Another Sabbath has come to give me the break that is so helpful in keeping balance in my life. Having a special day each week that is set aside as God's day is one of the best gifts ever given to mankind. I took an early morning long walk up the hill. We all wanted to go to the prosthetics program that the Puerto Rican team has developed so we took the pickup to Delmas with Emanuel leading us. It took a while to find the site. We even arrived before the Puerto Rican team who had to call us for directions. We got a bunch of pictures especially of Cam and the younger amputees. We had lunch at a nearby café and talked with Cam and Chris about funding the project. Chris has many connections with the media especially in England. On our way home, we took pictures of Haiti's ruined nationalcathedral. There were a number of beggars at the site. It is hard for me to walk away from people who have so little but I have resolved to not encourage begging. We also stopped at the ruined National Palace for more pictures. The internet went off today. It won't be worked on until Tuesday since Monday is a holiday.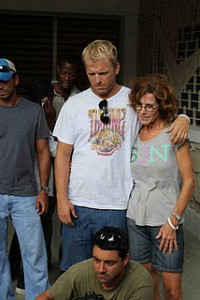 Oct 16
I was able to do my early morning run in 28' 05" . It was my best time yet. Whitney/Mulder team arrived fairly early in the day. I had an enthusiastic meeting with them sharing how I perceived the unprecedented opportunity here. Of course, my hope that Frank will takeover for me had no influence on that at all. Steve Mulder's return is his first since the "Rocket Man" episode. He calculates that he has spent 50 days here in Haiti since the earthquake. Mimi Batin is a trauma subspecialty trained orthopedist who shares the ER work with Frank in his work in San Luis Obispo, California. She has been here before not long after the earthquake. She is very enthusiastic.
The students and Cam wanted to go to Petionville to check out the souvenirs and paintings. Jeannie and I found one that we liked a lot. As we were leaving we had an interaction with a group of youth who were asking for money for "protecting" our vehicle while we were looking at paintings. It was a somewhat threatening situation and required a hasty departure.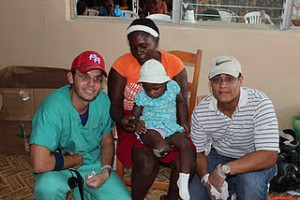 Oct 17
The clinic was much smaller than usual due to the National holiday in remembrance of the assassination of Haiti's first president/emperor, Dessalines. We were finished before 2 pm. That gave us an opportunity to all go to Franz' orphanage. The kids put on a great program singing and dancing. We took a lot of gifts and clothes and candy. Cameron really enjoyed having fun with the kids. Josh and Andy did also. The students and Cam and Chris all wanted to go to Leogane, the epicenter of the earthquake so we spent the rest of the day driving there and looking around and then coming back. Still no internet