Haiti Trip Report, June 2012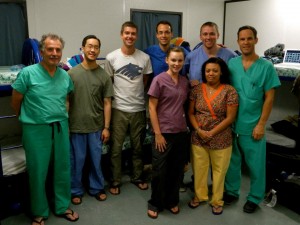 After returning from my fourth trip to Haiti since the earthquake of 2010, I am again reminded how truly blessed and fortunate I am. But not simply blessed just because I live a life of relative luxury compared to the millions of poor Haitians who live in constant poverty. Not just because I live in a home with four walls and a roof, nor that I eat three nutritious meals each day of my choosing, nor because I actually have to make a decision as to which pair of shoes to wear on a given day or even that I have straight legs upon which to walk. More importantly I am reminded how blessed I am to know and be friends with the Haitian people. To hear the genuine laughs and see the bright smiles of the selfless translators who work at the hospital. Men like Roosevelt, JJ, Emanuel, and Joseph who greet you with a smile and embrace you like family. To spend a week interacting with dozens if not hundreds of orphaned children who have never known anything but poverty yet are somehow filled with joy and happiness. To hear them sing praise songs after church and hear them giggle uncontrollably as you tickle them. To work with caring people like Mary Lou and Dorvil who willingly choose to live in poverty with these orphaned children in an effort to give them a better life. And to have a poor Haitian pray for you and your family that I may be blessed and cared for by God. Yet another trip to Haiti where I can't help but feel that I benefited more than those I went to help.
I set off to Haiti with an amazing group of people. From Portland I was joined by my ICU RN co-worker and friend Leah Herr along with her husband Andrew. This was their first mission experience and first time to Haiti, they were both invaluable members to our team. Dr. Scott Nelson, who was one of the first doctors to arrive in Haiti after the earthquake and who is largely responsible for the work now being done at Haiti Adventist Hospital, joined from Loma Linda University along with third year ortho resident Dr. Alan Sull. Dr. Ian Alexander of the Foot and Ankle Society came from Ohio State while Jeff Nepple, a fifth year ortho resident, made the trip from St Louis. And no Dr. Nelson lead trip would be complete without Maria and Lucia, an anesthesiologist and OR nurse from the Dominican Republic. Their energy carried us through the week and their fine cooking filled our empty bellies.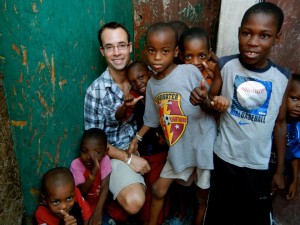 With each trip I take to Haiti I find myself spending more and more time working with the local orphan children outside the hospital. Earlier this year, my wife and I decided to create an outreach program in an attempt to provide orphans in Haiti with a better life. In January we started the Margaret Friar Haiti Children's Fund to provide life's basic needs to Haiti's orphans. With the inclusion of Andrew on this trip who is not in the medical field, we were able to coordinate a few projects outside the hospital to rebuild and improve a few local orphanages. This latest trip really was two full and separate trips all in one. We had a full medical trip at the hospital performing over 25 surgeries and seeing hundreds in the clinic while at the same time other team members were at various orphanages tending to and overseeing a number of building projects. I was able to split my time between both projects and had a full and enriching experience.
The hospital was full each morning with patients young and old waiting for their turn to be seen in the clinic. Taylor Spatial Frames and external fixation devices were on full display, some still attached to crooked legs as their deformities were still being corrected while others were attached to now straight legs of similar length to their partner. Most patients who have leg deformity correction at the hospital go home after a few short days and manage their new hardware at home. Many external frames, such as the complex Taylor Spatial Frame, are used to slowly lengthen short bones or straighten warped ones. These frames have moveable struts which the patients are taught to adjust over a period of months to correct their individual deformities. The patients come back to the clinic for regular check-ups but otherwise are independent in the management of the devices used to correct their deformities. On Wednesdays the hospital also holds a large clubfoot clinic. Those patients whose club foot correction can be managed without surgery come in regularly for progressive cast changes to aid with the correction of their feet. Others come for check-ups to monitor the progress and recovery from surgery. Several Haitians such as Roosevelt have been trained to aid in the cast changes.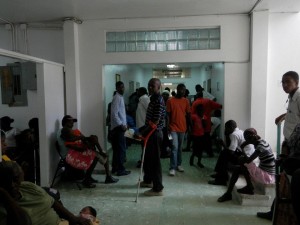 On large clinic days it takes the entire day to see all the patients, often Dr. Nelson and the team are still seeing patients until dinner. The clinic also provides the opportunity to see several special sides to the Haitian people. Patients and families are always very kind and thankful for the services provided to them. They begin to arrive at the clinic by 6am and wait patiently for their turn, sometimes for the entire day. Often times they are wearing their Sunday best with girls arriving in cute dresses with their hair in braids with pretty bows. The Haitian people, while living in a dusty and unclean environment, are themselves were clean and hygienic.
During our week long stay we performed close to 30 surgeries, most on indigent patients. The hospital continues to provide high quality medical care to those in need. Dr. Francel Alexis is still ever present caring for the day to day needs of the orthopedic patients and continually scheduling patients for visiting teams. The Haitian women who make up the nursing staff continue to grow as nurses and provide ever improving patient care. On prior trips Summer and I spent the majority of our time teaching these women the basics of recovery nursing and their knowledge and understanding has improved greatly. Most surgery days a Haitian nurse is staffed in the recovery room and they are now nearly independent in recovery and caring for these post surgical patients. We often kept the nursing staff busy shuffling the patient bed allocation process as we had the entire in-patient unit full of post-operative patients.
It is awe inspiring to see the miraculous changes created by Dr. Nelson in children with drastic orthopedic deformities. Children with clubfeet, bowlegs, knock-knees, windswept deformities all benefited from the gifted hands of Dr. Nelson and the team of orthopedists during this trip. This trip was a good combination of patients who suffered from both acute and chronic conditions. We even treated an elderly 87 year old man who was in a late night car accident. He had numerous lacerations requiring sutures and a left tibia fracture. We put a SIGN Nail to fix his fractured tibia and admitted him overnight. While we did some fascinating surgeries and cases two really stood out for me.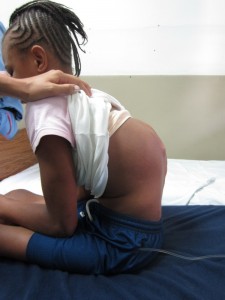 The first was a 14 year old girl named Kati who had fracture dislocation of her spine. In addition to being paraplegic she was hardly able to sit up due to the severe angulation and pain in her spine. Kati's father died several years ago and then her mother was killed in the 2010 earthquake. She was living with some relatives in a house that had been condemned due to earthquake damage when a wall fell on her last August. Her friend was also in the house and suffered an amputation of her leg. When her uncle found out that Kati was permanently paralyzed, he abandoned her at a local hospital. An operation had been performed by a visiting doctor but this had only made the situation worse. Fortunately some workers at a spinal cord rehab unit adopted her. A recommendation had been made for her to go to the United States to have a surgery to straighten her spine, but they were grateful to hear that the same quality operation could be performed right here at Haiti Adventist Hospital.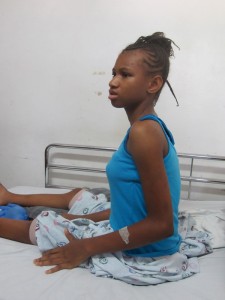 Due to the severity of her deformity, the previous operation and the time since injury, the spine straightening operation was somewhat of a formidable task. Her preexisting paraplegia dramatically reduced the stress of the operation, and Lucia's prayers were appreciated by all as Dr. Nelson carefully mobilized the vena cava and aorta around the front of the spine in order to completely straighten her back. 12 screws were placed along with two parallel rods to correct the deformity. While she will always be paraplegic we hope this correction will provide the rest of her life with some comfort and relief to sit up straight and lay flat at night. It was an incredible transformation.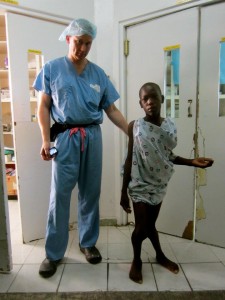 The second operation was on a young boy named Wilner. He lives several hours away and his trip to the hospital was coordinated from the states by Karen Fields. He arrived with a drastic deformity of both legs, although the left leg has vastly more disfigured. He suffered from a windswept deformity of his legs, his leg bones are warped in a "C" pattern on both sides and he looks like his legs are blowing in the wind. Dr. Nelson performed the operation and applied some external fixation to keep his now straight legs in alignment. He will soon be running and playing with straight legs like all his friends back home.
Sabbath evening Scott led our entire group for a walk up the hills behind the hospital. While Haiti is indeed very dirty, overcrowded, and still in disrepair from the earthquake, there are still pockets of beauty. This hike was up in the green hills with very pretty sunset vistas and fresh air blowing up the hillside. The view was spectacular. From the top you were removed from the noise, the smell, the taste of poverty and witness to the unveiled beauty of this country. Corn was growing on the hillside, the city was far below, the ocean and port beyond, all mixed with the colors of the sunset. As we continued, the hum of thousands of Creole voices could be heard so distinctly from the tents and shacks lining the hills that, although we were on the other side of a valley, it was as though we could speak back and be heard. Like a swarm of bees all around us, the gentle hum of their voices guided us onward down the valley. We knew that in each of those shacks was a family, or, more likely, families, living daily life in 100 square feet of cinder blocks, cardboard, and tarp. They were likely preparing for another evening of maybe food, maybe bed, maybe neither, and no lights. Viewing it from above was surreal. Suddenly, as if to remind us, "this is Haiti," a young girl, not older than 12, walked up the same steep hill it took us nearly 30 long, gasping minutes to scale, carrying a bed frame on her head…The girl, the bed frame, the backdrop, the sunset, "this is Haiti."
Aside from a full and satisfying week in the hospital and operating room our trip was also enriched by helping dozens, if not hundreds of orphaned children. While Leah and I spent several full days helping with these efforts along with several trips between surgeries, I must thank and credit Andrew Herr and Jonathan Euler for their tireless efforts coordinating these projects. We visited six local orphanages during our trip visiting the children, bringing them homemade nutrition packs of dried fruit and nuts, and assessing their needs. We also chose two orphanages, Mary Lou and Dorvil, to invest some extra time to improve their living conditions.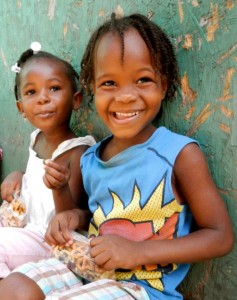 We spent most of the Sabbath visiting these orphanages. Our first visit was to Frantz's orphanage. He has 54 children living in a space about 1,500 sq feet. There are four wooden bunkhouses with bunk beds. The place was a little unkempt, dirty and smelly, which was sad to see. Summer and I have visited this orphanage a half a dozen times and during past visits this orphanage had always been clean. But this visit the conditions looked worse than before. I got the feeling the children were almost kept in this condition to incite pity for them and thus generate more monetary donations. We had a long talk with them that we have been helping them financially to give these children a better life, not the unacceptable conditions we saw. We informed that our aid would temporally cease until we make a few surprise visits to inspect their progress. Our aid bears the responsibility that it will be used to help propel their orphanage into progress and that the orphanages are expected to use it to improve the lives and living conditions for the kids.
The kids themselves were happy to see us, taking pictures with the cameras and showing each other. We gave them all nutrition packs and they spent about 30 minutes enjoying them. Most kids only each rice, beans and cornmeal in Haiti so these nutrition packs (filled with walnuts, almonds, peanuts, sunflower seeds, dried fruit and a few jelly beans) are sometimes their only source of the vitamins and minerals they need for healthy bone growth and development. We also gave out some clothes and shoes to the kids that were donated from our friends Becky and Markus from Germany.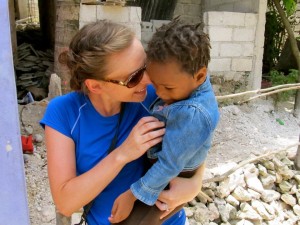 Our next visit was to Mr. Wilson's orphanage. There about 25 kids here ranging from age 3 to 16. They took us to their rooftop play area and we had a great time playing with all the children. Mr. Wilson runs a good orphanage; the kids are all well cared for and clean. They were just getting back from church and they all attend school. Mr. Wilson was low on food and his kids have only been fed twice a day while waiting for more food arrived. We fixed that problem this week. More toothbrushes, clothes, and shoes were handed out. Thanks to Bill and Sue Shawler (who went to Haiti with me in January) the kids now all have mattresses. The 12 mattresses we bought are all being used!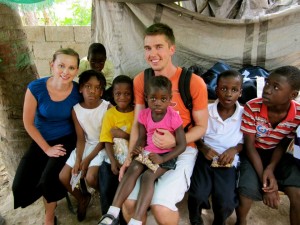 Our final stop was Dorvil's orphanage. I'd had not been here so it was great to meet him and the kids there. Dorvil has 17 kids from age 4 to 16. They were all at church when we arrived so were toured the area while waiting. They have one wooden building for girls and a tent for boys. The girls all have beds with mattresses. They sleep 2 or 3 girls per bed. It is a nice space and adequate for them. The boys share a large tent which was close to 120 degrees inside. Outside it is likely pushing 90 degrees but the heat of the tent took my breath away upon entering. There was little ventilation and only an uneven dirt floor. There were enough bunk beds so that each bed only has to hold 2 boys. The only problem is that six of the bunks didn't have mattresses. Imagine a grid of metal rebar spaced about 6 inches apart and just one (yes that's only 1) layer of cardboard or blankets for padding. That is what these boys slept on. Mattresses are $30 each so we bought 6 of them for the boys. Jonathan spent several minutes trying to talk Dorvil into planting some veggies around the buildings. They have enough room to grow some corn, tomatoes and peppers, maybe enough room to have excess to sell at the market.
Many Haitians are so used to getting support and handouts that they often don't utilize the full potential of their space to help themselves. We are trying to assist them but also push them to find ways to provide for themselves. Dorvil also has two broken sewing machines we are trying to get fixed so he can make some money mending clothes, again we'll have to keep trying because they were not too keen on doing the work. But the more they can do for themselves, the more independent they can become, the better they will be able to provide for the kids.
Our main project this week was to work with Mary Lou to improve her orphanage and try to give her kids a better life. Her orphanage cares for 16 kids, a few more girls than boys. From our very first visit they were happy, energetic, and full of spunk. When we first arrived to assess their needs and develop a plan for the building project we were overcome by flying kids. The little ones jumped off chairs and tables at us to and held on for dear life. We had 4 or 5 kids hanging from us at times. We returned the favor by tickling them into submission.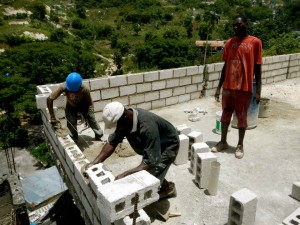 Mary Lou's orphanage often gets overlooked and has received the least outside assistance of any of the six places we visited. She lives up in the hills in a small cinderblock home. The building is 12 feet wide by 30 feet long and is almost carved into the hillside. It is a several hundred foot climb up steep slopes to reach their home. The area in front is steep with loose rocks and there is only a 2 foot gap between the back side of the house and a vertical wall of the hill. The only place to play is on the roof however there are no walls for safety and rebar is sticking out everywhere. Our main project for the week was to build a wall around the roof to give the kids a safe area to play. Mary Lou's kitchen was tucked into the small two foot gap between the building and the hillside, it was adjacent to the toilet. We decided to incorporate an outdoor kitchen into the roof project giving her a clear, sanitary, and open place to cook for the children. We also built several small items like new stairs to access the roof and 2 new bunks beds with mattresses for the kids.
Jonathan and Andrew oversaw the building projects along with their Haitian crew chief Gregory. Together they made numerous trips into town to purchase all the raw material: 230 cinderblocks, 1500 pounds of bagged dry cement, a truckload sand, lumber, tin, bunks and mattresses. Jonathan's truck broke down twice during the supply runs, both times fully loaded with heavy supplies. Eventually we had to hire taptaps to get the materials to the job site. A few hard working Haitian men were hired to haul all the material up the hill to the orphanage. They carried 100 pound cement bags up two at a time and hauled cinderblocks three high on their heads up the slope. Jonathan hired a local masonry crew to construct the wall, it took three men two days to complete the project. On the second day, after the job site was cleaned, a spontaneous soccer game broke out on the roof with a ball Andrew brought for the kids. What an incredible experience; these children never had a flat area to play and now they have a safe, sunny and relatively spacious area to run and just be kids.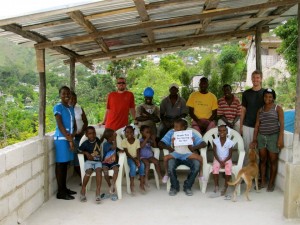 Jonathan and Andrew designed and supervised the building of the kitchen so it has a view of the ocean, ventilation for the charcoal stove smoke, fresh air, and a nice sloped overhanging tin roof to keep it dry and protected. The new kitchen is about 12 feet square with a 3 foot overhang to keep the area dry. This area will also provide some shade during the hot summer days to eat and work on homework. We also built in some cement stairs into the very steep hillside to make it easier to get around. We hung some chalkboards for the kids to play with and practice their school work. We also hung a new tarp to give them some shade and bought them bunk beds and mattresses. Our next project will be to build some terraced garden beds in front so they can grow their own food and have something to sell at the markets.
Mary Lou herself was amazing to work with. Almost every night our team would note how we all felt thankful to have "chosen" to spend the week working with Mary Lou and her kids. She'd make us lunch every day, which we politely ate, feeling guilty the whole time. She'd later specifically say how much she appreciated us sitting down to eat with them. The image that will stay with us longer, however, is her carrying supplies up that steep hill because she realized every bit of help she could give towards the construction project would result in more food and help for the kids. That demonstration of love and sacrifice really solidified to us that this orphanage was the right place to be focusing our time that week. By week's end it was clear that our personal thoughts of rightly choosing to work with Mary Lou had been superseded by overwhelming gratitude that God had guided us there to enrich not only the lives of Mary Lou and her children but more importantly our own.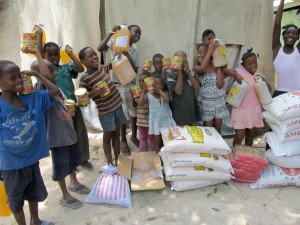 On our last day, Leah, Andrew and Jonathan spent the day purchasing and delivering food to four orphanages. An orphan can be fed and cared for in Haiti for less than a dollar a day. We spent about $1,000 the final day buying over 2,600 pounds of food for the orphans. This should last each place over a month until Terry and Jeannie can buy more food in August. When we first arrived, all the orphanages were lacking sufficient amounts of food to feed their kids. One was even relying on old Canadian army rations to eat. One of our favorite memories was delivering food to Dorvil's orphanage. The children had been instructed to sit on a bench while we delivered the food. They inched closer and closer to the bench's edge as they excitedly watched us arrive. When the mother of the orphanage went around the corner all the kids leapt from the bench and ran happily up the hill toward us. They helped carry the food down and placed it into neat stacks outside their kitchen. The stacked bags of rice were taller than some of the small children. It creates both sadness and joy to see how exuberant a child can be to realize there will be food to eat this month. I'll never forget the kids dancing around the piles of food, hoisting cans of tomatoes above their head like super bowl trophies.
It was another great trip, I am very thankful to have traveled with such a great group of people. We are already planning our next visit; hopefully it will not be too far into the near future