Outing to Furcy
Oct 7
I saw several more patients in the clinic today in followup of their frames. I also saw a new patient with severe Blounts for a TSF. We had several smaller surgical cases that Ed did while I concentrated on seeing clinic patients. We finished with surgery and clinic by 5 pm. Wilfredo Perez arrived this morning from Puerto Rico. He brought manuals and tools and kits to go over our anesthesia machines. He started to work right away on the machine in room 3 and after several hours we concluded that it would be better to test the machine in storage downstairs for leaks. We brought the other machine up from downstairs and he began working on it. It didn't take him more than an hour or so of testing it and checking all the hoses and connections to conclude that it is in better shape than the room 3 unit. It doesn't have any significant leaks and we decided to concentrate on getting it in good shape rather than waste energy and time and resources on the older machine that may be more problematic. Dr Adrian tested both machines and she agreed. He has really gotten a lot accomplished since he got here this morning. About then, the Sabbath had begun so Freddy put his tools down. It is once again a delight to have a day apart from the business of the week. Jeannie made a great meal of savory beans and rice that everyone really enjoyed.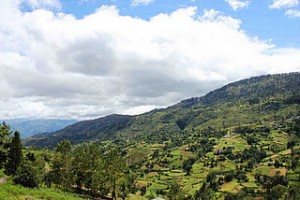 Oct 8
Our patients are doing fine. I planned to take Ed, Andy and Josh away from the campus so they could see some of the Haitian countryside. Freddy wanted to come as well. They all wanted to go up to the cooler high country. I had missed seeing Ft Jacques the last time we were up there. It is a fairly well preserved fort built just after independence in 1804. Our four main translaters wanted to go as well. Jeannie decided she needed the rest and stayed at the hospital. Emmanuel did a nice job of directing me to Petionville and then on up the narrow, winding road to Fermathe where the Baptist mission and hospital is located. The group all looked through the mission and then we headed out on a very bumpy, never paved road to the fort. There was some very nice scenery on the way so we stopped a couple of times to take pictures. One spot was a rock wall along the road with several different types and colors of hibiscus hanging over. I love flower photography so took a few minutes to compose about a dozen images.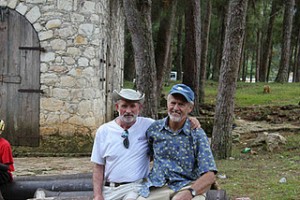 The fort's small parking lot had several people selling fresh fruit as well as cooked food. There were French fries, whole vegetables thatlooked like a potato, and some other veggies as well as 'peekleez.' I got a plate full of a variety and it was very tasty. Most everyone except the translators were a bit reluctant at first but once they tasted it, it was "Katy bar the door." Two more platefuls were bought and devoured. Everyone really liked the peekleez. We paid admission to the fort and a young guide started the tour. His heavily accented English was fun to listen to. The earthquake had caused a lot of damage and the cannons had been taken off the walls and placed on the ground in front of the fort. We all enjoyed poking into various rooms and areas and taking pictures. I set up a groupphoto and the guide did a nice job of working everybody's camera. The small central "plaza" has a cistern nearly filled with water and lily pads. The flowers were beautiful. We got more pictures at the end of the tour on the cannons as well as of the Haitian flag on the flagpole in front of the fort. I paid the guide very well for the group but he continued to hang around and started asking the others for money also. I don't have patience for that sort of thing and he quickly got the message. Back in the parking lot, four more plates of food with peekleez were purchased. It all disappeared quickly.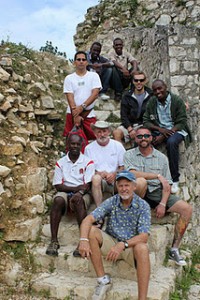 We continued on our outing through the town of Kenscoff. It continued to get cooler. The Lonely Planet guide book describes the little town of Furcy as "picturesque" so that was our destination. We continued on the road that became more and more "rustic." It seemed as though we travelled quite a bit farther than the guide book had indicated before we finally got there. I got a couple of relatively uninspiring photos and we put the pickup in 4 wheel drive for the trip back to Kenscoff. It runs very well in 4×4 and felt very solid. The whole trip back to Delmas took about 2 hours.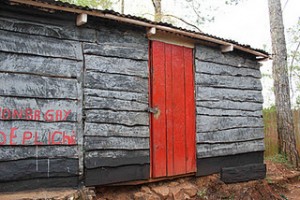 Stephanie Bryce's family had invited us to their house on Saturday again. I had told Emanuel that we were going to Kenscoff and beyond and weren't sure how long it would take and when we would return. Freddy also planned to spend the evening working on the anesthesia machines. I told Emanuel that we wouldn't have much time and for them to not make us a meal. We got to the Bryce's around 6 pm and they had a whole meal ready. We all had a great time with the family. Stephanie is doing really well. I had JJ take some pictures of me dancing with Stephanie. Everybody got a kick out of it. We didn't stay late. Freddy worked late into the evening on the machines. He is unbelievably knowledgeable. He plans to get up early in the morning to get as much done as possible.
Oct 9
Pt with femur fixation last week by previous team had some persistent serous drainage so I took him back to the OR. I only found a hematoma/seroma. I washed him out thoroughly and closed him so he hopefully can seal and not drain any more. I spent a lot of time on the computer also catching up with my journal and sending emails. Freddy worked all day long with only a short lunch break. He finally wrapped it up after 11 pm. All of the machines are now functioning and have been serviced. He services each of his machines every 6 months. I hope we can arrange with Bella Vista Hospital for him to come every 6 months. Even better would be for us to have Freddy train a Haitian to be our Biomedical technician and have our own department. Roosevelt spent almost the whole time with Freddy. I will have to get some feedback now from Freddy to see if he thinks Roosevelt has the aptitude to do the job.