Foot and Ankle Society team arrives: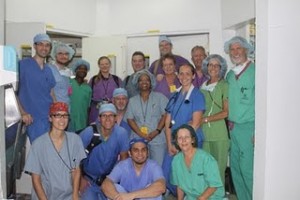 Many of the members of the Foot and Ankle Society team arrived today. They are staying at the Auberge and most went directly there. Brian DenHartog is the leader of the team. He practices in Rapid City, South Dakota. He has several partners who are all subspecialists. He brought an ortho PA, Dan, a nurse anesthetist, Dean Gibson and Karrie a scrub tech and Sue, a nurse to help recover patients. Steve Weinfeld does exclusively foot and ankle surgery in an academic practice in New York City. He has a lot of experience putting on Ilizaroff frames. He brought an OR nurse, Shirley, and Toni, an anesthesiologist from Syracuse, New York. A third foot and ankle surgeon, Dean Jameson from Arkansas is part of the team as well. Bryan and Steve know each other quite well from being on teaching panels for the Foot and Ankle Society.
July 4
We got off to a very good start with the foot and ankle team. Most of the patients we had on the list came in for their evaluations and we scheduled them for the next several days. The clinic was very large. Francel began today as well and he is a big help. I saw a 7 y/o with symptoms and physical findings of discoid lateral meniscus. I scheduled him for Wednesday to do with Francel. I am hoping that teaching Francel arthroscopy will be part of an arrangement that will keep him at HAH for the long term. Adeel, our ortho resident and Jonathon the med student from LLU and ZJ and Lynn complete the entireortho team. We had already scheduled some cases for today and they all went well. One case was an ankle fracture that the team took care of nicely. I did a PMrelease in a child and Bryan, Steve and Dean did a case of chronic infection in the fibula. Scott and I have major hopes that Francel will decide to stay here at HAH after he finishes this peds ortho fellowship. He could help keep all of the equipment organized and implants restocked and be the bridge between visiting teams of orthopedists. He could be involved with teaching residents at the university as well as eventually being the core of the orthopedic practice at HAH.
July 5
We had a total of 8 cases today and they went well. The man with the banana plantation for correction/stabilization of foot and ankle was the biggest case. The team did an elegant job of correcting the deformity and stabilizing the foot and ankle. I chiefed Adeel on a wrist fracture and it went well. We have enough manpower to see all of the clinic patients in a timely fashion as well as do a lot of cases. All of the nurses and techs are very hard working. It takes a lot of work off Jeannie's shoulders to have a team that is so well planned out. Brian has really done a great job of putting this entire team together. Steve is an accomplished very assured surgeon. He is really great to work with. Dean is the quietest of the group. He did a sportsmedicine fellowship but then got into foot and ankle and does that almost exclusively for his large group.
July 6
I did the child's knee arthroscopy and found a discoid lateral meniscus just as I had expected. The case went well with Francel helping me. I recontoured the meniscus to make it as normal as possible. All of the clicking with flexion/extension was gone. I had Francel hold the scope and look and probe the structures, then had him take everything out and start over several times. He has watched some arthroscopies but hasn't had the chance to actually do much. It will take a number of cases for him to start feeling comfortable just getting good visualization. The Wednesday clinic was big but went very well with all of the clinicians seeing patients. Steve did a revision of Stevenson Dorsainvilles Ilizaroff frame while I was doing the arthroscopy. It turned into a pretty big job. I am going to review it again with Scott to make certain it is going to do what he wants.
July 7
One of the most interesting patients I have seen here is a young lady who sustained a femur fracture in the earthquake. She had an open reduction and internal fixation with a SIGN nail that was locked on both ends. The fracture healed and she had no pain. She came into the clinic a few days ago with a complaint that her foot turns out to the side when she walks. Examination showed a 60 degree malunion with external rotation of the healed femur. I did her surgery today with Francel helping. I first removed the single distal locking screw. Then I did an osteotomy of the femur about 3 centimeters proximal with the Gigli saw. The Gigli saw is like a piece of wire with sharp teeth. Once the bone was cut through, I rotated the bone internally so that the foot would point straight forward. Then I put two locking screws back in holding the bone in the correct rotation and alignment. We put some bone graft around the osteotomy site as well. Cases like that are very gratifying. The team did another case of Tibial osteomyelitis with debridement and antibiotic beads. Adeel did a ganglion cyst and assisted on other cases including Maxi. He is the patient from Cap Haitien with the tibia fracture that we shortened with Pat Yoon. Steve did a very nice job of putting on an Ilizaroff. I certainly hope he will be able to heal this fracture and get his life back again. Bryan, Steve and Dean also did a difficult tibio/talar/calcaneal fusion. It went well as have all of their cases.
July 8
We had more tough cases today. The patient from Jeremie was one. He has a midshaft femur fracture which is very shortened as well as an infected ankle/distal tibia post attempted ORIF. Adeel and I put on an Orthofix distracter on the femur and then the foot-ankle team cleaned up the ankle and put on an Ilizaroff. The entire week has gone by very fast. We have gotten a lot of cases done. Toni is an outstanding anesthesiologist and likes to do lots of blocks. She is very thorough. Dean does a great job of getting patients in and ready for surgery. The team has until Wednesday of next week. We have a lot scheduled already. The weekend off will be welcome for everyone.