"Bonjour, Haitien!"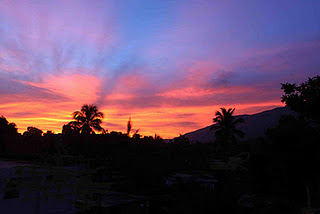 Aug 28
It has been two weeks since I made the hole in the roof over the small
balcony outside our room for the AC and it still hasn't been hooked
up. At least a third of the nights are hot enough that it makes
sleeping somewhat difficult. Sometimes I will read for an hour or two
in the middle of the night until sleep finally becomes inevitable.
Most nights do eventually cool off a bit by 3 or 4 in the morning.
The green duplexes have finally been emptied of the occupants who have
no relationship with the hospital. They aren't very large but are a
bit bigger than our current unfinished hospital room. They have a
very small bedroom and tiny kitchen area and bathroom. There is a
fair sized living room and another small room that could accommodate a
bunk bed and serve as a second small bedroom. They are in awful
condition. Besides some obvious earthquake damage, they are dingy and
dark. The doors and windows need to be replaced. The electrical and
plumbing is nonfunctional and there are no working sinks or commode.
AC will be needed and then a complete paint job done. Jeannie thinks
it could be made "charming." Obviously a fair investment will be
needed. The four units could probably accommodate all of the long
term volunteers for a few months. That would then allow the
unfinished wing where we are all currently staying to be emptied and
finished. The lost revenue from the hospital not being able to use
them for patient care has been significant.
Our little balcony really needed some greenery. A banana plant from
down behind the peds clinic building was about the right size. It
needed to be dug up with roots and all but now is nicely decorating
one end of the balcony. There are at least two or three dozen more in
the area it came from. The balcony gets a lot of direct sun in the
morning. This will provide some nice natural shade. Randy gets to
harvest any bananas that grow over onto his side of the balcony.
Emmanuel had told me that Stephanie's father had found a reasonably
priced lot about "twenty" minutes away. It took nearly an hour to get
there and then the traffic on the way back made the return a half hour
longer. It is in a nice place on a hill overlooking a small pretty
valley as well as a view of the sea iin the distance. A very nice
breeze was blowing. An American organization is building a fair sized
school about a block away. It is definitely much too far away from
the hospital for us to be interested.
There was a concert at Emmanuel's church this evening that he had
invited us to attend. It was an interesting eclectic mixture of
music, poetry and choreographed movement.
There was another very heavy rain tonight. We were prepared and able
to fend off the water that wanted to come in from the balcony.
I dug up another banana plant and brought it up on our little balcony
to add some more greenery. It is about nine feet tall and I had to
lean it over so it wouldn't rub against the ceiling. I'd really like
to get a couple of other plants including a hibiscus to add some
color.
Orthopedist, Mark Slovenkai, unable to make it today d/t Hurricane
Irene. He will arrive on Tuesday. Edith Newberry our anesthesia
provider for the week made it fine from Nashville.
Aug 29
My early morning run took 28' 20" . That is 15 sec slower than my
fastest time so far.
Reasons/excuses
1. my calf is still bothering a bit.:)
2. It has rained heavily the last two days and the roads/trails are
slippery and there are big puddles to negotiate.
3. A big dump truck slid partway off the trail near the top and I had
to go in the mud to get around it.
4. I got a "Bonjou Haitien" from a man that I greeted with "bonjou".
It caused me to lose focus. (it is the first time I have been called
a Haitian)
5. I still detest running uphill and refuse to do it(my SLOW jog is
hardly running).
6. I ate too many Hot Tamales last night while Jeannie and I were
watching an episode of "The Guardian."
7. I ran by myself so had no one to spur me on.
Big Clinic(>50) for just ZJ and me. I also had 4 cases to do. They
all went fine but kept pulling me away from the clinic. I was on the
home stretch in the clinic at about 6:30 pm when I suddenly got
sweaty, dizzy and nauseated. I had to stop in the middle of a patient
evaluation and go upstairs and lay down. The symptoms lasted for
about 4 hours. 7 Up seemed to help settle my stomach. I hope it
isn't a relapse of whatever organism invaded my system a few months
back. We'll see what tomorrow holds.
Aug 30
Jeannie and I had to go to the US Embassy to get more pages for our
passports. We have been warned a couple of times now as we pass
through immigration that we have very little space left to stamp. We
got up and left the hospital shortly after 6 am. We dropped a person
off at the airport and then went to the Embassy for our 7:30
appointment. After two levels of security, we finally made it in
nearly 15 minutes late. It took them almost 2 hours to do the job.
Maybe that was really speedy. It just seems like it would only take a
few minutes to look over the applications that we had filled out and
then add the pages in. There must be many important details that have
to be looked at and thoroughly checked out. After waiting about a
half hour, I was called to a window and asked if the Social Security
number I had given on the form was my actual number. I checked the
number written on the form and I assured the person with the skeptical
look on her face that, yes, indeed, it was my correct number. Then
she read it out loud over the intercom so the 6 or 8 people including
the Haitian guard could hear it clearly and asked again if it was my
correct number. I found it odd that such a thing should happen and
wonder if perhaps someone there has some type of scam going to steal
identity. The traffic was very congested coming back but finally made
it around 10:30 to start our first surgical case of the day.
The cases all went well including the 83 y/o with the hip fracture.
We set up the fracture table again and it worked like a charm. Dr
Slovenkai and his 17 y/o daughter arrived part way through the case.
Our last case was the man with the lateral tibial plateau fracture. Mark helped me. I was very glad for his help. It was a difficult one. The lateral tibial articular surface had a coronal split. The anterior 2/3 had partially buttonholed through the anterolateral capsule and was just under the skin. The part of this fairly large fragment still in the joint had already started to heal to the underlying intact tibia. There was a second free fragment with the remainder of the lateral articular surface. The lateral meniscus had a complete radial tear out to the rim and the entire tibial spine was in many fragments with the ACL nothing but mush. The articular fragments went back together and held well with two threaded K-wires. A lateral buttress plate and screws held well sandwiching it to the intact medial side. Everything was solid and I could flex it to past 90 degrees. I put him in the CPM for immediate range of motion. I'm glad he was only 3 weeks post injury. It seems that so many of these types of injuries are delayed in coming here for a month or more. It makes it so much more challenging when the fragments have already healed and started to remodel.
A few days ago, I had asked Randy to see if he could find a newer pickup to replace the "taptap." I have come to the conclusion that putting more money into the old one is just going to be throwing good money after bad. He found a Chinese pickup that has the same size box. It is a 2010 model and is 4WD and diesel. The make is JMC(GMC?) and there is a dealer here in Port au Prince. We had a mechanic check it thoroughly. It seems to be in excellent condition. The price the owner was asking seemed reasonable. We would really like the hospital to have a vehicle that can serve several purposes. Picking up groups at the airport, transportation for groups on outings, hauling items
for the hospital, and a vehicle for the orthopedic director to use at his discretion are all important uses. The front and back seats can carry 4 or 5 passengers and another 6 or 8 could ride in the back. Most importantly, the taptap cover that I made will fit. We finalized with the man selling it yesterday. It should be a fairly good vehicle for trips to the Dominican Republic from time to time.
There were no more of the odd symptoms today that laid me out yesterday for a bit.
Aug 31
The run this morning went well. There were still some obstacles including the dump truck which had been pulled back up onto the road but was clearly not working since it was just at an angle sitting there. It made progress slow to get around it without falling off the hillside. The road is just dirt at that spot and fairly muddy still. The bothersome calf has healed and wasn't an impediment. Overall, it was my best time ever by 20 seconds. The uphill part definitely presents a major psychological effort but the flatter section at the top is ok and the downhill part is even kind of fun. Surely there are health benefits that make the negative parts of the run worth it.
The clinic wasn't as big as the one on Monday and of course, Mark was here to do the cases in the OR. There were a couple of smaller cases and then the below knee amputation on the man with the large malignant melanoma. It was an option to do a much wider excision with margins. That would have involved removing about the lateral ¼ of his midfoot with some of the forefoot and the heel. Getting coverage of such a large defect would have been a big challenge. The patient and his family decided to have the amputation which I think was a good decision. Mark did a very nice job with both JJ and Jeanty assisting him. Edith said that he spent time teaching both of them and letting them suture as well. The clinic finished before 5 pm thanks to ZJ's strong help. The C-arm still needs to be used for x-rays. It isn't ideal but the clinic unit is still not functioning. Nathan continues to try to get the Fuji techs to try for an online fix. Patients do have the option of paying for their xrays in the radiology department. At least 20% have the money. Perhaps those patients should also be paying something for their surgical care.
Jeannie and I wanted to have more time with Mark and his daughter so we walked with Edith and
Irma to the Auberge where they are staying. We ate dinner together and Mark generously offered to pay for the meal. They wanted to know all about how the program started and of course, about Scott. It was a very good evening together. He seems very interested in continuing to periodically come and help with the work at HAH. Edith has been a great anesthesia provider. She comes from Nashville and knows several of the people who came and worked with Dr Lovejoy earlier this year. Mark was anxious to do plenty of cases and we put 7 on the schedule for him. Some are small but one is a bit of a challenge. She is a patient I put a TSF on about 2 months ago for a malunited tibia fracture that occurred in the earthquake. She hasn't followed up well and has developed a significant plantar flexion contracture. Her correction is quite good and she only has a few days left on her strut
adjustments to finish the prescription. The plan is for Mark to do the final strut adjustments under anesthesia and then do a TAL and then put an Ilizaroff frame to hold the foot/ankle in neutral while
the tendon heals. I built the frame for him and it is being sterilized tonight. I wish I could be there for the case but tomorrow, Jeannie and I leave early to go to Ben and Sarah's wedding in Southern California. They are a great couple and we think it is important for us to be there. Ben is an outstanding resident. He really made an impression on everyone during his time here in March.
Sarah is doing an OBGYN residency. She is a member of the LLU School of Medicine Class of 20010 that adopted Haiti Adventist Hospital. I think they would be a great team to work here at HAH. We fly back Sunday pm/Monday am on an overnight flight. I should be back for a good share of the clinic on Monday. The DeMuth team arrives on Sunday. ZJ and Lynne can get them started with rounds and then seeing patients in the clinic. I haven't scheduled any patients for surgery for Monday. A patient or two may show up for cast changes or something may come in tomorrow to clinic or over the weekend that might need to be done on Monday. We have a fairly full schedule of surgical cases for the week and I am sure that more will come in during the week.