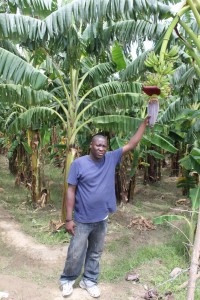 Fixing legs, changing lives
Polio patient in Cabaret
May 22
This turned out to be a very special day. I had wanted to visit my patient with the partially paralyzed leg from having polio as a child. Today was the day. Emmanuel arranged for Stephanie's dad to drive us to where he lives near the town of Cabaret. It is about an hour from the hospital unless the traffic is bad. Sunday it is usually fairly light. He lives with his mother and other members of his family just outside of town. He has several huge mango trees in front of his house. He only owns half of the trees. The other half belongs to his neighbor. The mangoes from his half of the trees were large and according to Emmanuel very tasty. I have a very bad allergy to mangoes so I abstained. Just being so close to them makes me start to itch. I can't shake hands with someone who has had mangoes in his hands nor can I touch the outside of a bag that has mangoes in it. The rash, swelling and itching is remarkable and requires parenteral (IV) steroids. My eyes have swollen nearly shut on two separate occasions.
A couple of brothers of my patient were there working on vehicles. There was also a very cute 1 1/2 y/o girl. She was totally shy and wouldn't look at the camera. I got some pictures of most everybody including a video of my patient walking with his polio affected leg. I want to get a video of him also post op. He took us to his banana/plantain farm a couple of miles away. It is very well kept. He mainly grows plantains and his mother takes them to Port au Prince and sells them. He also took us to see his little girl who is 5 years old. She lives with her mother. We left after about 1 1/2 hours and drove back to the Brice home. I was expecting to greet everyone and check on Stephanie. They had prepared another big meal for us. It was even bigger and better than the last one. The home made 'sos pice' was outstanding on the rice and beans and vegetables and plantains. Stephanie's little brother had a great time playing with my camera and taking pictures. After the great meal, we left for what I thought was the hospital. Actually, Emmanuel had arranged for us to go see one of our patients. She is a 19 y/o girl who was injured in the earthquake when her school collapsed and she lost her leg above the knee. She was much luckier than her best friend who always sat next to her in school. Her body has not been found. She really seemed to appreciate us coming down to her house to see her.
On arriving back at the hospital, I found that a lady had been admitted with a fairly fresh midshaft femur fracture. She had a hemoglobin of >13 and was still NPO so we took her to the OR. Dr Dennis McCarthy had arrived earlier and was raring to go as was Erin Kawasaki the fifth year ortho resident from southern California. The case went well. Erin did a very nice job. She got the locking screws in the SIGN nail with minimal difficulty
May 23
Another large clinic today. Dr Kawasaki saw several patients after watching me for a bit. We scheduled several cases. Dr McCarthy observed the action in the clinic also most of the morning. We slipped in a debridement/wound vac change under anesthesia so Dennis wouldn't get too bored. A heavy rainstorm hit in the late afternoon. Water came flooding into our room from the balcony. We put all of our towels on the floor to control it as much as possible.
May 24
Surgery had some challenges today. We had quite a few cases scheduled but several can canceled for various reasons. Our 90 y/o hip fracture still has not been cleared by the internist. The inverter stopped giving us power for some reason. Randy tried to figure out the problem and finally disconnected the power source and it started working. I don't know what will happen when we try to recharge the batteries. I was reluctant to do a whole lot of cases without the batteries recharging. I finally did one of the cases of club foot miter TSF that needed to be revised. It was more complicated than I had anticipated. It looks like it might be ready to program now for the equinus correction. Scott needs to help me with that. It rained heavily again later in the afternoon but this time it didn't flood in our room.
Emmanuel finally found someone to fix the brakes. I tried it out in the rain and they work much better now. It wasn't cheap but I consider brakes to be important. Emmanuel also had the pickup all washed and cleaned up inside. The doors and windows still don't close or open properly. We have an appointment with a guy who does good body work who has agreed to fix things to my satisfaction for an agreed upon price.
May 25
The inverter worked just fine today after turning on the charger for the batteries. I waited for about an hour and it was working fine so we went ahead with the patient with the SI separation and symphysis fracture separation. The case went very well. The C-arm doesn't go low enough to get a lateral sacral view so I made some 6 inch blocks to elevate the table. With the blocks, the lateral view was excellent. I also set up the traction to the C-arm table and attached it to the femoral traction pin. It worked very well. The hemipelvis came down perfectly. Erin had done several percutaneous SI screws and was careful about the guide pin placement. We got X-rays with the C-arm in the lateral and both pelvic inlet and outlet views. We had the right length 7.0 cannulated screw and corresponding screwdriver. Much of the morning was over by this time and I had a large clinic waiting. I left Erin to put on the pelvic external fixator. The clinic seemed to go more slowly than usual but was still able to finish before 5 pm. I scheduled another case for Ron for next week. It is a tibial nonunion from an earthquake injury. I have an arthroscopy scheduled every day for him as well. I hope to get another case or two from the clinic on Friday also.
The tap tap top for the bed of the pickup is being worked on. It is an old rusted top that was leaning on a tree behind the hospital. The owner was one of the hospital welders and her agreed to sell it to me as well as cut it to size and put a tire carrier on the top of it. I'll have to find someone to paint it. I have a couple of old external fixators that are corroded. I plan to make a couple of bones out of wood and then cut them to simulate fractures and then put the ex-fixes on them and use them as decorations on the taptap.
This evening Jeannie and I were invited to dinner with the Maranatha group by Dick and Brenda Duerksen. They are here to finish the wall around the University. They are also making a video documentary of the project. Their group is staying at the La Plaza Hotel. Emmanuel agreed to go with us and show the way. I would have never found it without him, especially in the rain. We had a great time getting reacquainted after more than 20 years. It rained hard on the way back. We took Emmanuel to his home even though he didn't want us to be driving without him at night. We made it back just fine. We have a full day of surgical cases tomorrow.
May 26
We started the day with our big case. The lady is very large and had a femoral fracture that she sustained in the earthquake. She was treated with an external fixator and had a mobile nonunion. There were several centimeters of shortening. She was not anemic to start with which is a good thing when the case has potential for significant blood loss. We did have blood ready to give if necessary. Erin did a nice job of controlling blood loss with the cautery. We had to shorten her a bit to get the fracture reduced. The SIGN nail went very well. We used the bone from the shortening to graft her as well. The case took a good share of the morning. I anticipate that she will do well. A second patient with a miter TSF for clubfoot also need to have some adjustments for her second stage to correct her equinus. We changed the necessary wires and Scott sent me the new program for her prescription. It will be fun to watch the foot finish the whole process of becoming straight. We had another small case to finish the day. We finished early enough to go to the Auberge for pizza. We took Dennis, Erin, Lynn and JJ. We had a lot of fun talking about our families. The pizza was excellent as usual.